Pro-tech's no-mow, no-water synthetic grass (EcoLogical Lawn) is a concept based on unique European technology.
Synthetic Grass: No watering | No mowing | No weeding | Looks real | Feels real | Enhances value of property
In recent years new, mono-filament yarns, have created an even more realistic and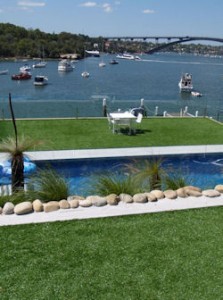 softer lawn which is ideal for suburban gardens and a variety of commercial and government applications..
The product is particularly effective in the drought-prone Australian environment.
It is also perfect for the average homeowner who finds looking after a backyard lawn a problem weekend chore, with not only the mowing, but the ongoing maintenance.
Landscapers and homeowners alike are familiar with the situation in many townhouse and apartment developments, where there are small lawn areas which are shaded and where it is subsequently difficult, or impossible, to sustain grass growth. Lawn looks good in these areas and there are often no suitable garden alternatives for such locations.
The Pro-tech EcoLogical Lawn system is also excellent around pool areas, under trees and on sloping terrain where it is also difficult to sustain grass growth.
The Pro-tech EcoLogical Lawn system requires virtually no maintenance, will last for at least ten years in extreme weather conditions and has superb drainage qualities. Depending on the area, the total investment for a Pro-tech lawn system would be less than a good quality paving installation and significantly enhances the value of any property or location.
Another application for our synthetic grass solutions is for schools. The product has proven to be a popular landscaping alternative for pre-schools, childcare centres and schools in Australia with school grass and lawns installed throughout Sydney, Melbourne, Brisbane, Gold Coast, Canberra and Perth. For more information about this, please visit our School Grass page.
For further information about using Pro-tech synthetic grass solution around your home or business, please contact us today.