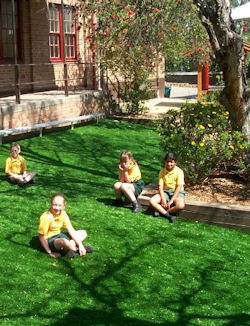 The Pro-tech Eco Logical Lawn has proven to be a popular landscaping alternative for pre-schools, childcare centres and schools in Australia with school grass and lawns installed throughout Sydney, Melbourne, Brisbane, Gold Coast, Canberra and Perth.
These school lawns conform with the regulations relating to landscaping around children's play equipment, and are certified as soft fall. This means that the lawn is soft and impact absorbing, reducing the chance of injuries if children fall from play equipment.
Pro-tech Lawns offer schools a fantastic solution to combat dusty playgrounds caused by drought conditions or mud baths caused by heavy rains and they are a no mow, no water or maintenance lawn that feels and looks real.
See our Childcare Centres and Schools photo gallery for more photos.