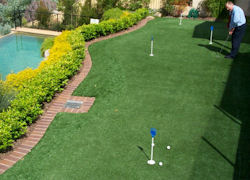 Pro-tech is the Australian market leader in synthetic putting green and synthetic lawn technology.
Pro-tech Corp is a national operation which supplies and installs synthetic golf putting greens and lawns, and a variety of other synthetic sport surfaces for a variety of residential, commercial and government purposes.
The company is managed from its head office in Sydney and distributes through a range of installation and marketing agents, and other intermediaries throughout Australia.
Pro-tech was founded in 2003 by Bill Rorke, when he originally brought the synthetic greens concept to Australia. Bill came across the greens during a visit to the US and realised quickly that an opportunity existed to introduce these superior quality greens to Australia.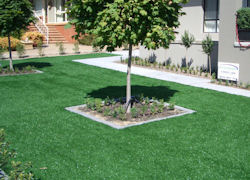 Today, the same synthetic greens have been installed in the yards of many Australians, including Australian golfing champions Peter O'Malley and Wayne Grady as well as other notable Australians such as former prime minister Bob Hawke.
In 2004 Pro-tech created the Eco- Logical synthetic lawn using European fibrillation technology. Pro-tech's Eco-logical lawn is the most realistic alternative to natural lawn available.
Pro-tech founder, Bill Rorke, is a keen amateur golfer himself and a former Australian international soccer representative.