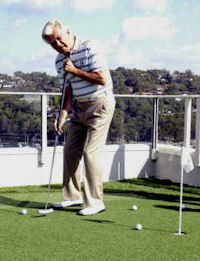 Pro-tech putting greens are a championship-quality synthetic putting surface that requires virtually no maintenance, and can be installed in residential backyards, at corporate offices, apartment developments, resorts, hotels and motels, or indeed for non-championship golf courses and driving ranges. Pro-tech can install surfaces suitable for indoor and outdoor use.
Pro-tech Greens are unique as they perform like a true championship green without the maintenance. The technology utilised by Pro-tech is endorsed by many of the world's leading golfers and notable Australian golfers Peter O'Malley, Wayne Grady, Paul Sheehan and Paul Marantz have Pro-tech greens installed at their homes for personal practice.
While you are visiting our website, please take some time to view other products in the Pro-tech range such as our Eco-logical lawns.
The photo at the right shows former Prime Minister, Mr Bob Hawke enjoying a putt on his rooftop Pro-tech putting green. The project architects for this job were Sorin Dascalu & Associates.
Pro-tech can design a unique putting green for your backyard or commercial venue which will allow many years of golf enjoyment whilst also adding value to your property.